Aboatox Lumostix-käyttöohje EN-A4 070217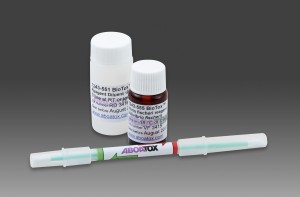 Aboatox has developed a new device to detect chemical residues from the surfaces. Easy to use, cost effective.
Chemical risks in food processing include cleaning agent and disinfectant residues remaining after insufficient rinsing of the process line. These detergents can be detected easily and at very low concentrations by using BioTox™ Toxicity Screening System. The method is non-specific and can be applied to both rinse waters and process surfaces. The detection time is only 5 minutes. The variation of detection limits for most commonly used agents is ranging from a 1/17 to 1/9615 dilution of the ready-to-use concentrations. Conclusions about the level of chemical contamination can be done if the agent and its response are known. The principle of the measurement is that the bacteria and the sample are mixed together and after an incubation period the light output is measured.
Suggested luminometer Kikkoman PD30. Ask for other options for you application!
Scientific poster about ease of use!
Literature
Lappalainen, J., Loikkanen, S., Havana, M., Karp, M., Sjöberg, ourhealthissues.com/product-category/anti-fungal/ A.-M. and
Wirtanen, G. (2000). Microbial Testing Methods for Detection of Residual Cleaning
Agents and Disinfectants-Prevention of ATP Bioluminescence Measurement Errors
in the Food Industry. J. Food Prot., Vol. 63, No. 2, pp. 210-215.
More info: juha.lappalainen(at)aboatox.com
ATP ja hygieniavalvonta
ATP:n mittaus on kätevä ja nopea tapa mitata pintojen puhtautta luminometrilla. Reagenssitikussa tai liuoksessa syntyy valoa mikä voidaan mitata erittäin herkällä fotometrilla eli luminometrilla. Valoa syntyy entsymaattisessa reaktiossa ja valitettavasti erilaiset pesu-ja desinfiointiaineet voivat ainakin suurina pitoisuuksina vaikuttaa mittaustuloksiin, käytettiin mittasysteeminä mitä tahansa laitetta tai kasvualustaa. Siksi on olennaista mitata pintojen puhtaus siten, että tiedetään aina puhtaan eli nollatuloksen tullessa onko tulos tosi vai epäonnistunut testaus. Aboatox on kehittänyt luminometriin sopivan, ympäristömittaustuotteista tutun valobakteerin käyttöön perustuvan jäämätestin. Menetelmä on nopea, herkkä ja luotettava. Tuote on tällä hetkellä patentoitavana ja lisätietoja saa vain numerosta +358 400 452 135.
Products, orders & inquiries »